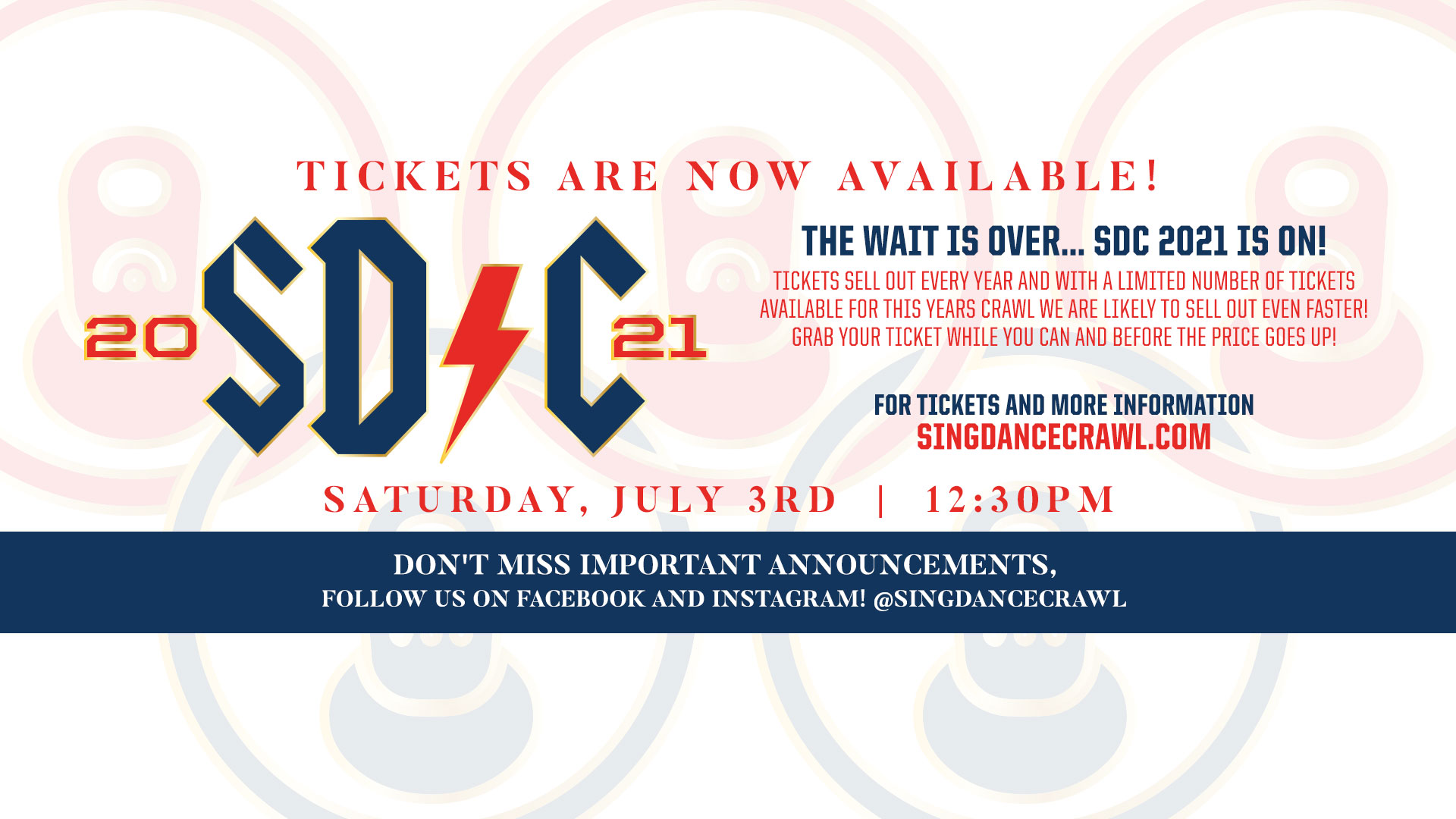 FAQs
Can I get a refund on my 2020 ticket?
All 2020 tickets are eligible for refund up until May 31st, 2021 (Memorial Day). Please forward your 2020 ticket purchase confirmation email to sdc@thelocalsandiego.com and confirm the amount you'd like refunded. You have the option to not receive a refund and instead make a donation to the Wingman Foundation.
Can I use my 2020 ticket for 2021?
All 2020 tickets will be honored for SDC 2021, so you're already on the list, baby! Simply check in & pick up your wristband when the time comes! There will be an updated Sing Dance Crawl policy for you to sign at the time of pick up also. 
Can I give my 2020 ticket to a friend?
2020 tickets are non transferable, you can however seek a full refund (instructions for refund requests above).
What is the 2021 refund policy?
All ticket sales are final, no refunds.
What does my ticket include?
Fun! But should you need more information… for Sing Dance Crawler's only;
 • A VIP experience you'll never forget
 • Exclusive access to San Diego's hottest downtown venues
 • Drink specials
 • DJs & Entertainment
AND MOST IMPORTANTLY a donation to The Wingman Foundation & hospitality industry workers who suffered great losses at the hands of the pandemic. We crawl for a purpose & have fun while we do it!
COVID-19 Position
For the last 14 months, we have all had to operate within the boundaries set for us. As the economy begins to reopen, SDC wants to offer you the opportunity to make the decision for yourself with this mask optional, private event. 
Sing Dance Crawl usually caters to 2100 people, this year we are limiting the experience to only 1200! This measure in addition with our chosen larger venues will provide ample space to those who wish to take it. 
You will not be asked to provide proof of vaccination or a negative PCR test in order to attend. You will be asked to assume the responsibility of not putting yourself & others at risk when attending. 
We recommend that you read the Terms & Conditions, Privacy Policy & Sing Dance Crawl Policies, at the time of purchase to ensure you fully understand the assumption of risk associated with participation. In order to complete the purchasing process, you will need to agree to all Terms & Conditions, Privacy Policy & Sing Dance Crawl Policies.
As always, we will continue to monitor the constantly evolving situation and make necessary changes, as needed.