Sing Dance Crawl is an experience like no other. This high-energy event draped in 'Merican pride takes you to three of San Diego's best venues. Each venue pulls out all the stops, creating an experience that you'd expect on a busy Saturday night… but during the day and just for us! You don't want to miss your chance because this party only happens once a year! With epic entertainment at each venue… there is no doubt that you will sing, you will dance and you will crawl!!
Sing Dance Crawl brings together people not only for a good time, but for a great cause. Through ticket sales and contributions, 2018's Sing Dance Crawl raised more than $20,000 for the Wingman Foundation, an organization whose mission is "To honor the sacrifices of our fallen air warriors and support the families they've left behind."
Don't miss out on updates, follow us on Facebook & Instagram!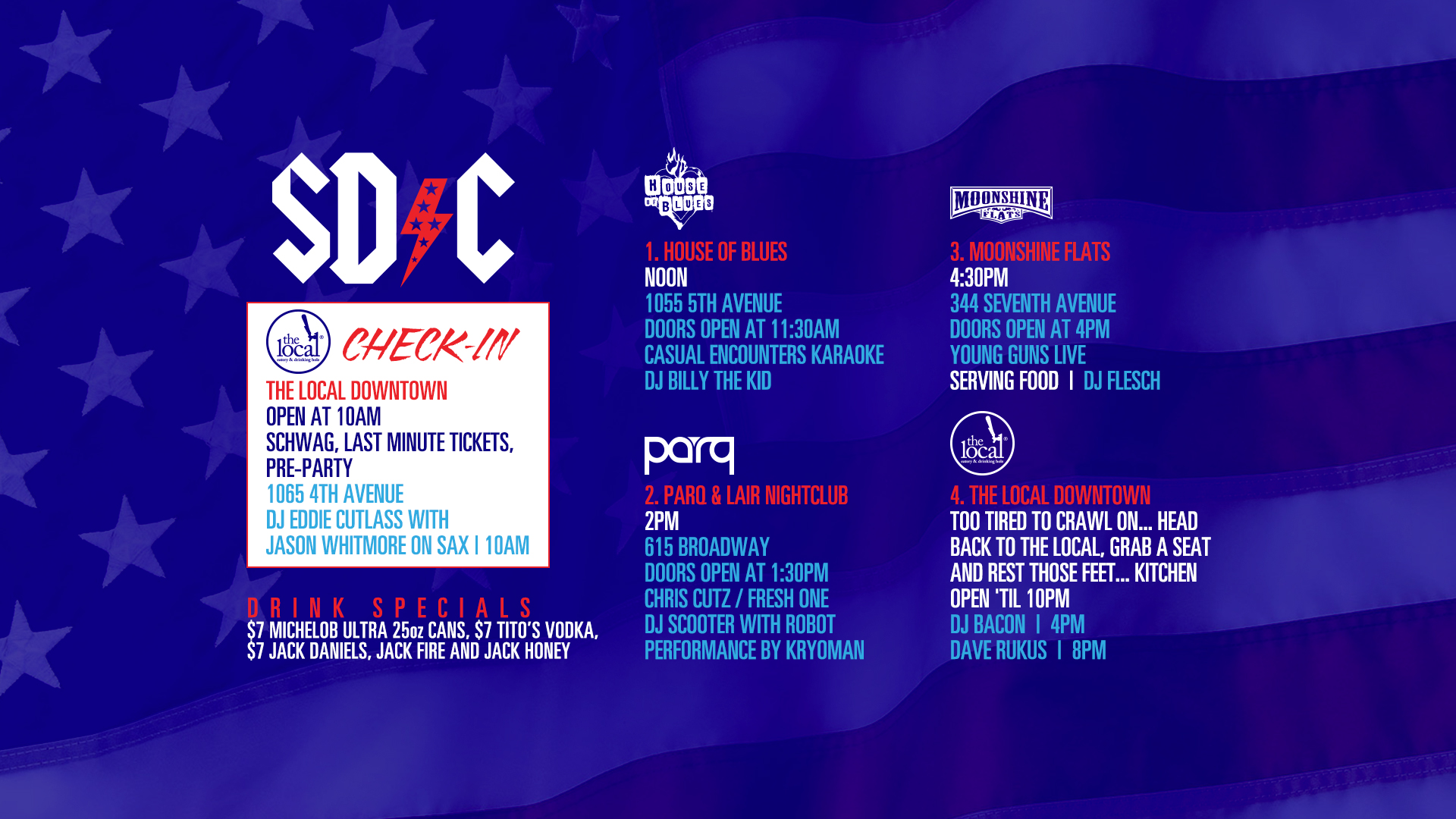 Sing Dance Crawl is just days away! Online tickets are SOLD OUT! Tickets are still available at check-in for CASH ONLY!
EARLY CHECK-IN
Friday, May 24th | 4pm-8pm
at The Local Downtown | 1065 4th Ave. SD, CA 92101
Saturday, May 25th | 10am
Can't make it to early check-in? Not to worry, The Local Downtown will be open at 10am. Head down early, check-in, fuel up and pre-game with DJ Eddie Cutlass and Jason Whitmore on Sax!
Wristbands will be available at The Local all day. Please note – you CANNOT check-in at any of the crawl stops.

PICKING UP FOR FRIENDS: You must have their confirmation email/printed ticket with you in order to check-in/pick up for a friend.
WRISTBANDS: Distributed at check-in and will not be replaced if lost or stolen – so put them somewhere safe!
MERCH & TICKETS: Additional shirts and hats will be available to purchase at early check-in for $15, cash only. A limited number of wristbands will also be available for purchase, cash only.